Pricing for Solid Hardwood Lumber | Kiln Dried Select or Better Boards and Live Edge Slabs | Current Sales Flyer
We offer quality hardwood lumber in many species. Our hardwoods are kiln dried and are of at least select & better grade. We offer hardwoods rough and skip planed with enough room to work with. Hardwood boards are of premium quality and are flat enough to yield common usable thicknesses after flattening and surfacing in their total length. We do not sell common grade hardwood lumber and you will not have to worry about the tragic waste involved in using twisted or warped boards. Using our quality hardwood lumber will add to your bottom line due to price and through the dependable quality of materials. Note: we do not charge extra for wide boards in our hardwood lumber store.
Examples of our current sale pricing:

Cherry, Pennsylvania Red Premium Hardwood 90/70 heartwood.

4/4 = $5.95 | 6/4 = $6.50 | 8/4 = $6.95

White Ash

4/4 = $4.35 | 6/4 = $4.85| 8/4 = $5.50 | 12/4 $6.50

Sapele - Ribbon or Flat, a Wonderful Dense Hardwood

4/4 = $6.90 | 6/4 = $6.95 | 8/4 = $6.95 | 12/4 $8.40

White Hard Maple - Nice Clear and White Hardwood

4/4 = $4.80 | 6/4 = $5.95 | 8/4 = $6.75 | 12/4 $7.25

Black Walnut - Premium Hardwood, Wide and Clear

4/4 = $10.50 | 6/4 = $11.25 | 8/4 = $11.90 | 10/4 $13.40 | 12/4 $14.50

White Oak $5.95 | 6/4 = $7.45 | 8/4 = $9.40 | QS 4/4 $6.7.65
---
Went there to pick up some lumber for a project. All the wood was Select and Better grade, no #1&2 common so I didnt have to cull through a whole pile of lumber for my project. I just loaded up the cart, board after board, and put it in the truck. The cherry lumber was some really nice stuff, consistent color and zero sap wood. It would make beautiful furniture. All the lumber was nice stock that any serious woodworker or furniture maker would enjoy getting their hands on. Place also had a showroom of custom pieces and tables. It's worth a trip out to East Dundee to visit Great Spirit Hardwoods, I am happy I made the trip. Tom Z. 12-26-2020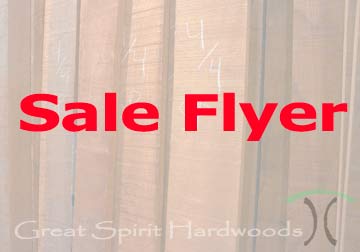 View our Current Hardwood Sale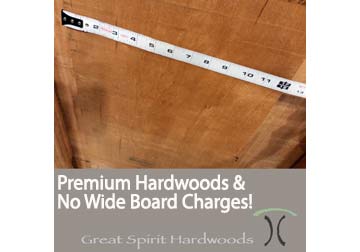 No Wide Board Charges at Great Spirit Hardwoods!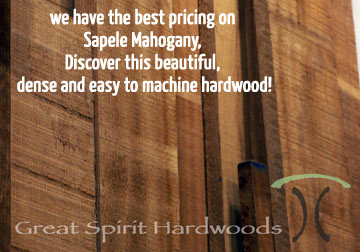 Beautiful and Dense Sapele Mahogany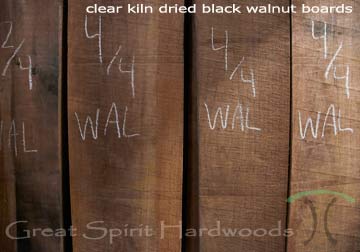 Premium Clear and Wide Black Walnut Lumber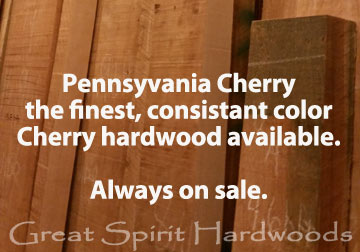 Pennsylvania Cherry - Always on Sale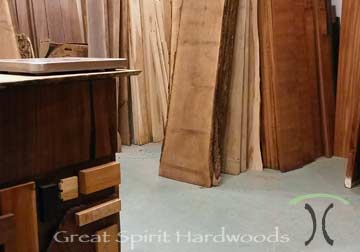 Visit our Hardwood Lumber Store
This has become my go to place for hardwood...and I happily drive 30 miles to get there. The quality and selection of kiln dried hardwood is fantastic and the pricing is the best I have seen in a retail setting. They sell rough sawn lumber which is very difficult to find in the Chicagoland area in a retail store... there is no reason to pay higher prices at other dealers who sell only pre-surfaced or dimensional lumber which in too many cases is not flat so you have to mill it anyways and you end up with a final product thinner than what you intended on buying. George B. 3-10-2020
---
Great Spirit Hardwoods, our Hardwood Lumber Store and Live Edge Slab Showroom
Great Spirit Hardwoods is located at 7 Jackson Street in East Dundee, Illinois. We serve the Barrington, Arlington Heights, Algonquin, Libertyville, Rockford, Long Grove, Vernon Hills, St Charles, Evanston, Lake Forest, Geneva and Glenview areas in Illinois along with the Greater Chicagoland suburbs and other areas of Chicago and Southern Wisconsin. Our clients have easy access from anywhere in the greater Chicago Area as we are just a skip and a jump north of Interstate 90.
---

---
Great Spirit Hardwoods - Retail Store
11 Jackson Street
East Dundee, IL 60118
Office: 224.801.1969