About our Woodworking Services: We offer precision quality woodworking services to our hardwood clients, and to fellow woodworkers and DIY enthusiasts. We are also furniture makers and can offer the quality you should expect to make your job easier. We can perform surfacing, straight edge, wide belt sanding and perform glue up's to the hardwood lumber you purchase. We also make custom made hardwood tops and furniture parts to fellow woodworkers who might not have the space for industrial sized equipment in their shops. We can do everything from simply surfacing your boards to making quality glued up panels and hardwood tops.
Custom Hardwood Table Tops: We craft custom hardwood tops for fellow professional woodworkers, DIY clients who need a top for a base and to office, commercial, restaurant and library clients. Our solid hardwood tops are machine flat with perfect joints and are made from wider boards than typical due to our larger jointer. Our hardwood table tops are wide belt sanded flat to 150 Grit and left with a open grain that accepts any finish. One quick pass in 180 grit with a random orbital sander is the most any top will need and we can perform that service in a snap with our Swiss made sanders. If a finished product is desired, we offer the same proven finishing process that we use on all of our solid hardwood furniture which allows the grain to remain apparent while offering supreme protection. We craft tops in any hardwood, exotic or domestic.
---
In Addition to Hardwood Lumber and Slab Sales, our Woodworking Services:
Planing and Surfacing
Jointing Boards, Straight Edge and Surface to 16"
Wide Belt Sanding of Tops and Panels
Ripping and Cross-Cutting Boards to Size
Custom Solid Hardwood Table Tops
Glue Ups, Tops and Panels w/ Perfect Glue Lines
Finish Sanding and Finishing
Nationwide Delivery
See spiritcraftfurniture.com for more info on solid hardwood tops
---
Why Consider our Woodworking and Custom Hardwood Top Service?
Attention Woodworkers - Our services will add to your bottom line: While our various woodworking services are not free, they will most certainly add to your profit margin on that next job. From experience, we know how valuable time is and how long many aspects of woodworking take when you don't have the room for industrial sized equipment. Our furniture business started in a basement so we are very aware of the time it takes to make a table top using skinny boards or the headache of trying to random orbit a top while hoping it remains flat at the end of the day. As a woodworker, you will come to appreciate what we can do to assist you in saving you time and money on that next project. Imagine spending your time on design, assembly, or the joinery of that next piece rather than killing yourself and your bottom line in laboring at something we can do for you in a very short time and small relative cost. Again, as woodworkers and furniture makers, we have been there, and we know very well that the phrase "time is money" is indeed very accurate.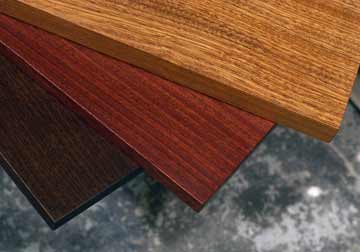 Solid Sapele Hardwood Tops - In Kona, Chris Craft Red and Natural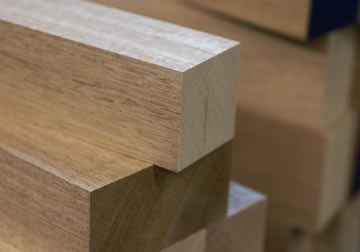 Precision Furniture Parts | Flat and square legs and aprons in African Mahogany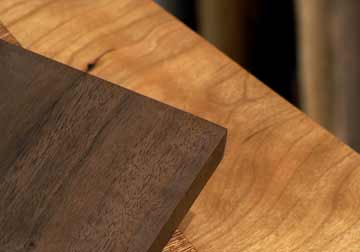 Custom Hardwood Tops - In Live Edge Walnut, Cherry and Rectangular Black Walnut
---
Machinery at your Service within our Industrial Woodworking Shop:
16 Inch SCMI Jointer with Carbide Head
Powermatic 18" Planer
Powermatic 72a 14" Table Saw
Powermatic 66 10" Table Saw
SCMI 37" Two Head Wide Belt Sander
24" Laguna Bandsaw
14" Powermatic Bandsaw
Safety Speed Cut Panel Saw
Crouch 48" Edge Sander
Various Random Orbital Sanders, Routers etc.
More German Made Clamps than you can shake a Walnut stick at
---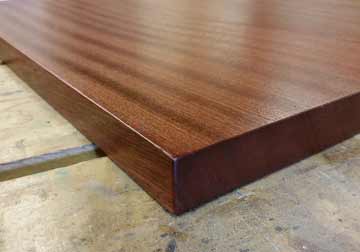 Solid Sapele Hardwood Tops - In Kona, Chris Craft Red and Natural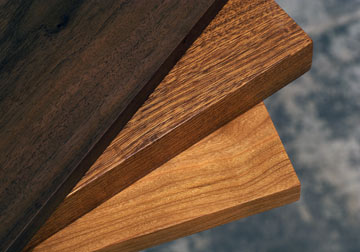 Custom Hardwood Table Tops - In Walnut, Sapele and Cherry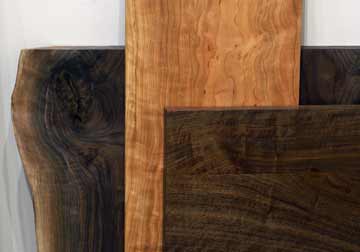 Custom Hardwood Tops - In Live Edge Walnut, Cherry and Rectangular Black Walnut
---
Great Spirit Hardwoods
7 Jackson Street, Suite B
East Dundee, Illinois 60118
Office: 224-801-1969
---