Covid 19 Wood Store Update - December 21, 2020
Our retail wood store is open via appointment only though same day appointments are always available. Masks and social distancing are required, and please bring your own tape measure!
Email sales@greatspirithardwoods.com or call 224-801-1969 for an appointment ahead of time and let us know what you are looking for. Only one customer (or related party) at a time will be allowed in the store with social distancing and masks being required. Our Covid policies have worked out very well so far and we remain commited to keeping everyone safe.
Hands down the best place in the area for hardwood lumber. Great service, extremely fair prices, and the overall quality of the boards they have in stock is impeccable. Oh, and you actually get what you pay for not a nominal thickness. I purchased a load of 6/4 sapele and it's all about an 1/8 over, so when it's machined it'll actually finish at 6/4. No other store that I know of does this, it's a big deal!
review left on Square, 2-15-2021
---
Pricing for Solid Hardwood Lumber | Kiln Dried FAS and Select or Better Boards and Slabs | Current Sales Flyer
We offer quality hardwood lumber in many species. Our hardwoods are kiln dried, are thick for their grade and are of select or better grade. We offer hardwoods rough and skip planed with enough room to work with. Hardwood boards are of premium quality and are flat enough to yield common usable thicknesses after flattening and surfacing in their total length. For example, our 8/4 Cherry is a full 2" thick and our 4/4 Sapele is 1.0625" thick when in rough form. We do not sell common grade hardwood lumber and you will not have to worry about the tragic waste involved in using twisted or warped boards. Using our quality hardwood lumber will add to your bottom line due to price and through the dependable quality of materials. Note: We do not charge extra for wide boards in our hardwood lumber store. Feel free to compare our pricing to that of Owl, The Hardwood Connection and other local wood stores!
Cherry, Pennsylvania Red Premium Hardwood 90/70 heartwood.

4/4 = $5.95 | 6/4 = $6.50 | 8/4 = $6.95

White Ash, Nice Wide Boards

4/4 = $4.35 | 6/4 = $4.85 | 8/4 = $5.50 | 12/4 $6.40

Sapele - Ribbon or Flat, a Wonderful Dense Hardwood

4/4 = $6.90| 6/4 = $6.95| 8/4 = $6.95 | 12/4 $8.40

White Hard Maple - Nice Clear and White Hardwood

4/4 = $4.80 | 6/4 = $5.95 | 8/4 = $6.75 | 12/4 $7.25 | 4/4 Birdseye & Figured $7.90

Black Walnut - Premium Hardwood, Wide and Clear

4/4 = $10.50 | 6/4 = $11.25 | 8/4 = $11.90 | 10/4 = $13.40 | 12/4 $14.50

White Oak - Premium Grade, Roughsawn

4/4 = $5.95 | 6/4 = $7.45 | 8/4 = $9.40 | QS 4/4 $7.65 | 8/4 QS $11.65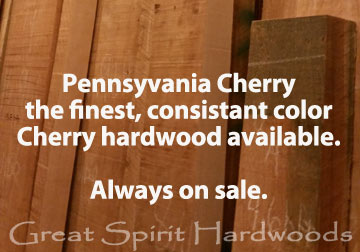 Pennsylvania Cherry - Always on Sale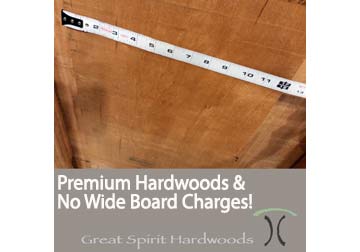 No Wide Board Charges at Great Spirit Hardwoods!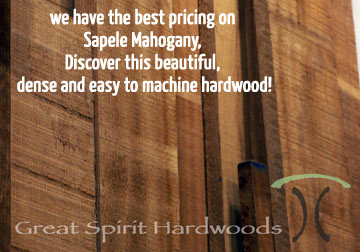 Beautiful and Dense Sapele Mahogany
---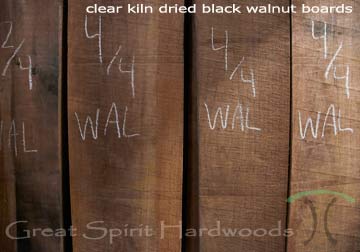 Premium Clear and Wide Black Walnut Lumber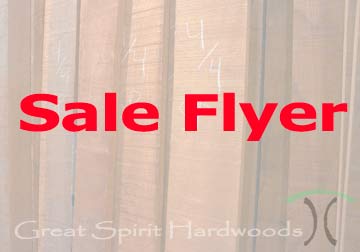 View our Current Hardwood Sale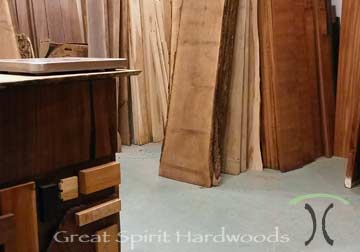 Visit our Hardwood Lumber Store
---
Machining, Surfacing and Woodworking Services
We offer machining; planing, edge jointing and wide belt sanding services. Pricing varies depending on time, please contact us for more info. Machining services are only available to hardwood purchased from us.
---

Great Spirit Hardwoods
7 Jackson Street, Suite B
East Dundee, IL 60118
Office: 224.801.1969